Haw River Assembly protects the Haw River Watershed.
This includes nine hundred and twenty miles of streams feeding into the Haw along the 110 miles of the river, the 14,000 acres of Jordan Lake, and the plants, animals, and people who depend on the river.
Gather for Another Procession of the Trees
Friday May 10  5 – 6:30 p.m
Circle Around the Historic Chatham County Courthouse, downtown Pittsboro
The Chatham Park Tree Protection Element has not been approved by the Pittsboro Town Board yet. Although some small changes have been made, they are not enough – more trees need to be protected.
Let's raise awareness and once again gather together to  SPEAK FOR THE TREES!
Show your support for more trees being saved in Chatham Park.  We'll process around the courthouse with signs, banners, puppets and music, Make a sign or use one of our ours. Bring a musical instrument, dress like a tree or just come and join us!
Watch a short video  of the first Procession of the Trees on February 15.  https://youtu.be/KJmCWJuMP5A  about the Chatham Park Tree Protection issue – with footage from the Procession of the Trees (produced by Amanda Roberson with her footage, plus video and photos by Peter Theye, Mark Barroso and Gary Simpson).
Chatham Park has submitted their Tree Protection Additional Element to the Pittsboro Town Board.  It has not yet been voted on, so we urge you to take this opportunity to let the Town of Pittsboro know that the proposed Tree Coverage is completely inadequate.   The town website is https://pittsboronc.gov/  The Pittsboro Town Board plans to return to discussion of the Tree Protection Element on at the beginning of their next Board Meeting on Monday May 13, which will start at 6 pm at Town Hall. Please come and show your support for a stronger tree proteciton ordinance.
Chatham Park  is building a mega-development for 60,000 people on this beautiful forestland along the Haw River and Jordan Lake.  Only 3% to 25% of the existing trees will be saved.  You don't have to be a resident of Pittsboro to speak up. Much of Chatham County will be impacted by Chatham Park's air and water pollution, and people throughout the region will feel the effects, including recreation and drinking water users of the Haw River and Jordan Lake. As flooding and heat increase with climate change, the role of trees is more important that ever.
A stronger Tree Protection ordinance will:
Preserve more of the existing forest, especially within 2000 feet of the Haw River.
Require denser plantings of replacement trees – one canopy tree per 750 sq. ft. is too sparse
Eliminate The Tree Coverage Planning Area –  a loophole that could be used to reduce the total number of trees preserved or replanted. There needs to be  clear and precise language in these rules – every site that is developed should have the trees required on it, and not someplace else.
Read the full talking points HERE
Read more about the Chatham Park issues and find Town Board contact info:   http://hawriver.org/river-issues/chatham-park/
Posted in:
News
Read more...
0 comments
---
Over 450 volunteers joined our 29thAnnual Haw River Clean Up A Thon on March 16th!
There was no shortage of work to do to remove tires, plastic bottles, and all sorts of wild objects like TV sets, car bumpers, coolers, and balls from the Haw River and the creeks that flow into it, especially given the frequent flooding and multiple hurricanes that have occurred since our last cleanup.  Teams of families, boy scouts and girl scouts, environmental clubs, neighborhood groups, church groups, and residents from Guilford County to Durham County and everywhere in between turned out at 30 different locations with incredible enthusiasm and love for the Haw River Watershed, and they removed 606 bags of trash and recycling!
To see more visit http://hawriver.org/projects/river-cleanup/.
Posted in:
News
Read more...
0 comments
---
Our continuing concern about industrial contaminants in the Haw River – and in Pittsboro's drinking water.
We have a new handout on our concerns about the levels of PFAS and 1.4-dioxane in the Haw River. Pittsboro is the only municipality in our watershed that uses the Haw River as it's source for drinking water. Contamination from industrial chemicals in the upper part of the Haw River watershed are exceeding EPA health guidance standards and are also contaminating drinking water sources in downstream communities on the Cape Fear River (which the Haw flows into) including Fayetteville and Wilmington
Posted in:
News
Read more...
0 comments
---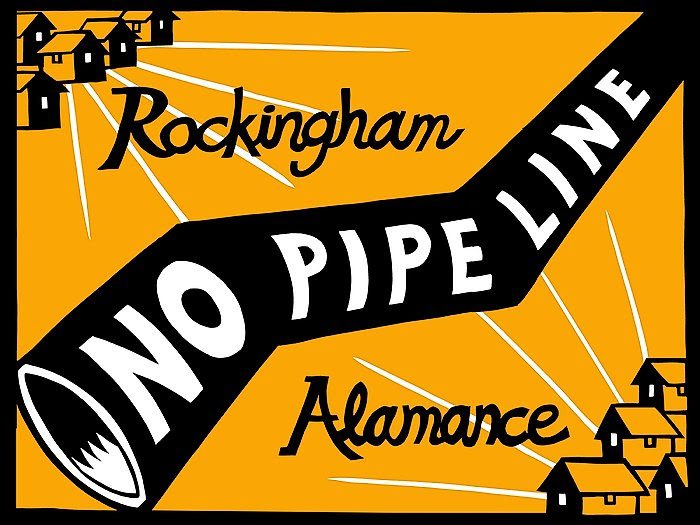 The Mountain Valley Pipeline project, a fracked gas pipeline ending in Virginia, is being extended to include an additional 70 miles, going through Rockingham and Alamance Counties. The pipeline would cross streams, and run adjacent to the Haw through parts of Rockingham and Alamance counties. Landowners who refuse to sign contracts could face the pipeline going through their land by eminent domaine.   MVP has not yet gotten the more than 20 federal and state permits needed to proceed — and the state has now told FERC that they do not think the pipeline is needed. Our organizing efforts have brought together a large number of landowners and residents of these counties, and convinced the Alamance County Commissioners to vote to oppose the pipeline. Read more at:  .http://hawriver.org/river-issues/mountain-valley-pipeline-proposal

Posted in:
News
Read more...
0 comments
---
The Haw River  had historic flooding in 2018 with 9 floods.  The river is dangerous during high water due to strong currents and pollution from stormwater and sewage overflows. The Haw River has claimed the lives of paddlers and swimmers over the years.    Don't swim when the water is high, and for paddlers, check the river gauges and river level safety information HERE
Posted in:
News
Read more...
0 comments
---